In all my domestic goddessness I haven't done much cake making. I know what I'm good at, things like cookies that take 15 minutes to bake. For some reason I really wanted to bake a cake for Jonathan's birthday party, I brainstormed with my cake making genius of a friend Heather and we came up with a PBR cake. It's round so how hard could it be? I don't think it was hard just a little time consuming and a little stressful (hey it was also finals week so I can say it was stressful!) But we nailed it and it was awesome! Oh and a HUGE thank you to Heather who did the "unfun" parts of the process like making sure the cake layers were fully cooked and/or not burnt, (luckily for everyone EATING the cake), making the cream cheese icing, designing the cake base and support and letting me borrow all her tools! She did what I would call the hard stuff while I did the fun design stuff. I think she liked her part better. Here are some of the highlights of my process.
For everyone not in the know this is what the cake is to look like, a can of Pabst Blue Ribbon beer.
First I wanted to make the can top out of fondant. Heather already had left over grey fondant from a cake she make for a friend so I didn't have to dye it. (My very first time working with fondant ever was helping her with that cake and dying fondant. Dying fondant is not fun.)
Here is the end result. I did pick up some silver cake spray paint, so the cake's top would be shiny!
Now on to the ribbon. I only had white fondant and I needed to dye it blue which is an annoying process to me and it might just be that I don't know a more efficient way. So first add a gel dye.
Then blend and blend and blend.
Until its the desired color.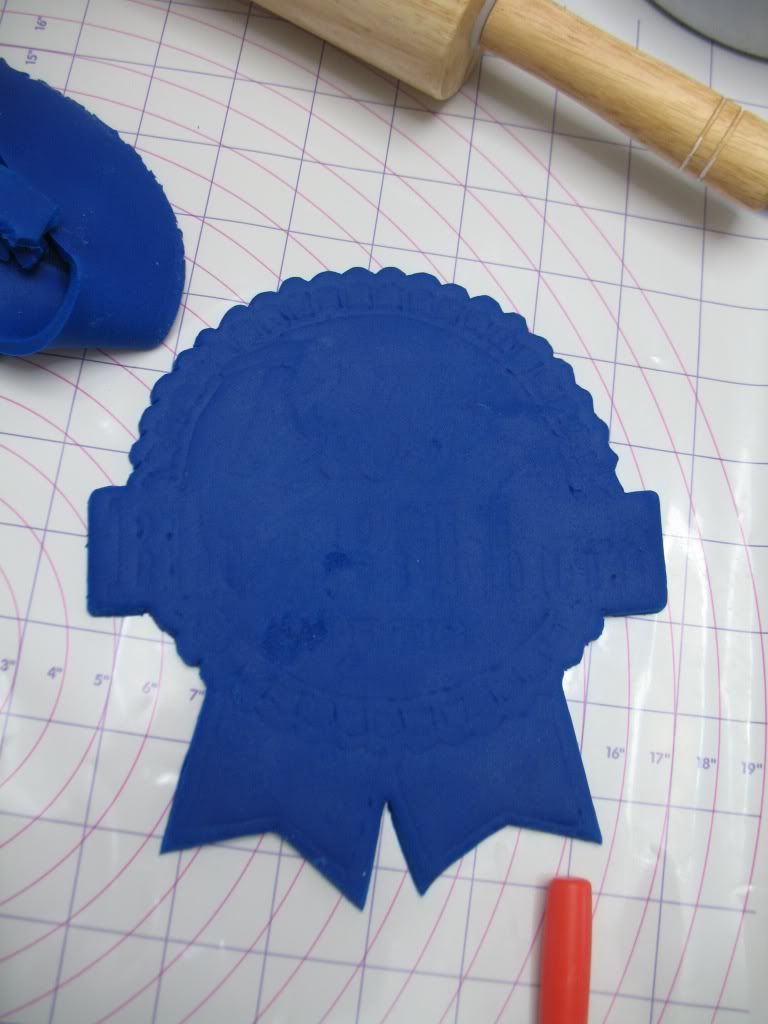 After I had the perfect color I rolled, cut out and marked up the ribbon logo out of the blue fondant.
The most painful part of the process was cutting all the letters out of fondant. I needed some Pabst after that.
My next step was a faulty one. I piped all the detail onto the logo (you can see that behind the cake). I did this the night before the party and the cake was assembled and the first layer of icing was applied. I added a second thick layer of icing and started to decorate.
I said adding the piping the night before was a mistake because I couldn't press the logo into the icing without smearing the detail. The logo started to slide down the side of the cake and I was stressing. So I asked my cake baking friend Heather for advice and here is what I got.
Thanks! That was just what I wanted to hear two hours before the party and I of course had been talking my caking skills up to everyone. So I used toothpicks. I know this may not proper cake decorating etiquette but I didn't care. I hid all the toothpicks under the white fondant letters so they wouldn't be noticeable and it worked so I could keep on decorating and not call the party off.
I added "Happy Birthday Stetsonator" on the back and it was finished!
Husband loved it and it was a hit at the party! It was worth all the blood, sweat and calories!