For 34 years my town has a 4th of July tradition, Anything Floats (I only know about the length of the tradition because they give the same speech about it every year). The contestants have to build their own boats out of anything other than existing boats and race in the Boiling Springs Lake. Three years ago a husband and I along with a couple cousins decided to join in the fun and build a boat to race and we've started our own 4th tradition of kicking ass on the lake. We don't really kick that much ass but one year we will, I can feel it.
I can't find any pictures of the first boat but that's okay because it was a big FAT failure. Here is our 2010 boat the Some Beach. The beach theme was my idea and I thought it was the best boat theme EVER but we did not win most unique. We were robed!
This year we raced All Quacked Up. I know the name is kind of lame, but our first name What the Duck was vetoed by multiple family members. Since the race IS a family event we didn't want to piss anyone off so we gave up on that name.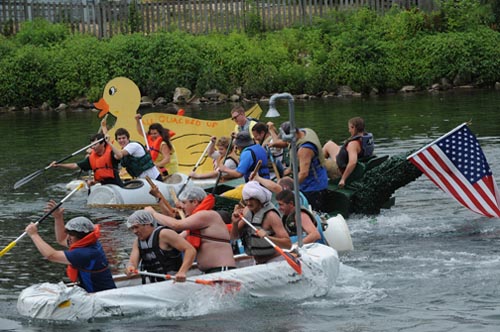 The competition. What I like about the event is the creativity some groups have when decorating their crafts. This year there was a shower themed, a golf themed and slumber party themed boat. I mean the duck boat should have won some kind of creativity award but I'm not holding any grudge or anything...

All Quacked Up
did place in some of our races! We won 3rd place in the four person and the six person race. Because we are winners. Oh and we were on the
local news
because I'm kind of a big deal.