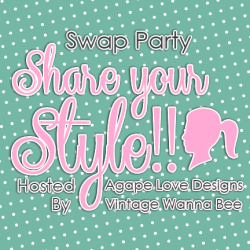 I joined the Share Your Style Hair Accessory Swap and received this minty headband from
Elise from Elise's Pieces
. I'm a fan of mint this year so I was excited to bring the cute accessory into my wardrobe.
Now my style shared:
I sent off a yoyo headband just like this one! With a change of shirt and headband an outfit can easily be remastered!
Mint: Shirt: Target / Headband: Swapped
Yellow: Shirt: GAP / Cardi: JCrew Outlet / Headband: Handmade
Shared: Skirt: JCrew Outlet / Tights: Target / Shoes: Steve Madden / Necklace: JCrew Outlet
GIVEAWAY!!!
Who would like a yellow and white yoyo headband made by me? It will be the just like the one featured below and just like the one I sent to Elise!
Now closed. Thanks to all who entered!
To enter the giveaway:
1. Please be a GFC or Bloglovin' follower of B is for Becky.
2. Leave a comment with your name and email so I can contact you if you are the winner!
The winner will be picked Tuesday, November 20th. Thanks and good luck!